GWM ORA UK appoints trio of new retailers – taking the number of customer service points to 20
GWM ORA UK has appointed three new retail partners with plans to achieve a minimum of 12 new appointments in 2023
These new Sales and Service sites will retail GWM ORA products in Belfast, Chorley and Exeter
GWM ORA UK now has seven Sales and Service hubs plus an additional 13 Service Centres
GWM ORA UK are pleased to announce the appointment of three new Sales and Service Centres for the GWM ORA brand – Charles Hurst Group located in Belfast, Chorley Group located in Chorley and City West Country in Exeter. These three new Retail partners will also open Service Centres in Blackpool, Burnley, Wigan, Bolton, Plymouth, and Truro.
These latest appointments are part of the brands plans to scale network infrastructure across the UK in 2023 with the aim of achieving around 5,000 sales by the end of the year.
Already, the brand has Sales and Service centres with Wessex Garages, Lookers Group and Peter Vardy located in Braintree, Wolverhampton, Bristol and Glasgow. These existing retailers will soon open Service Centres in Cardiff, Dundee, Edinburgh, Gloucester, Kirkcaldy, Motherwell, Perth.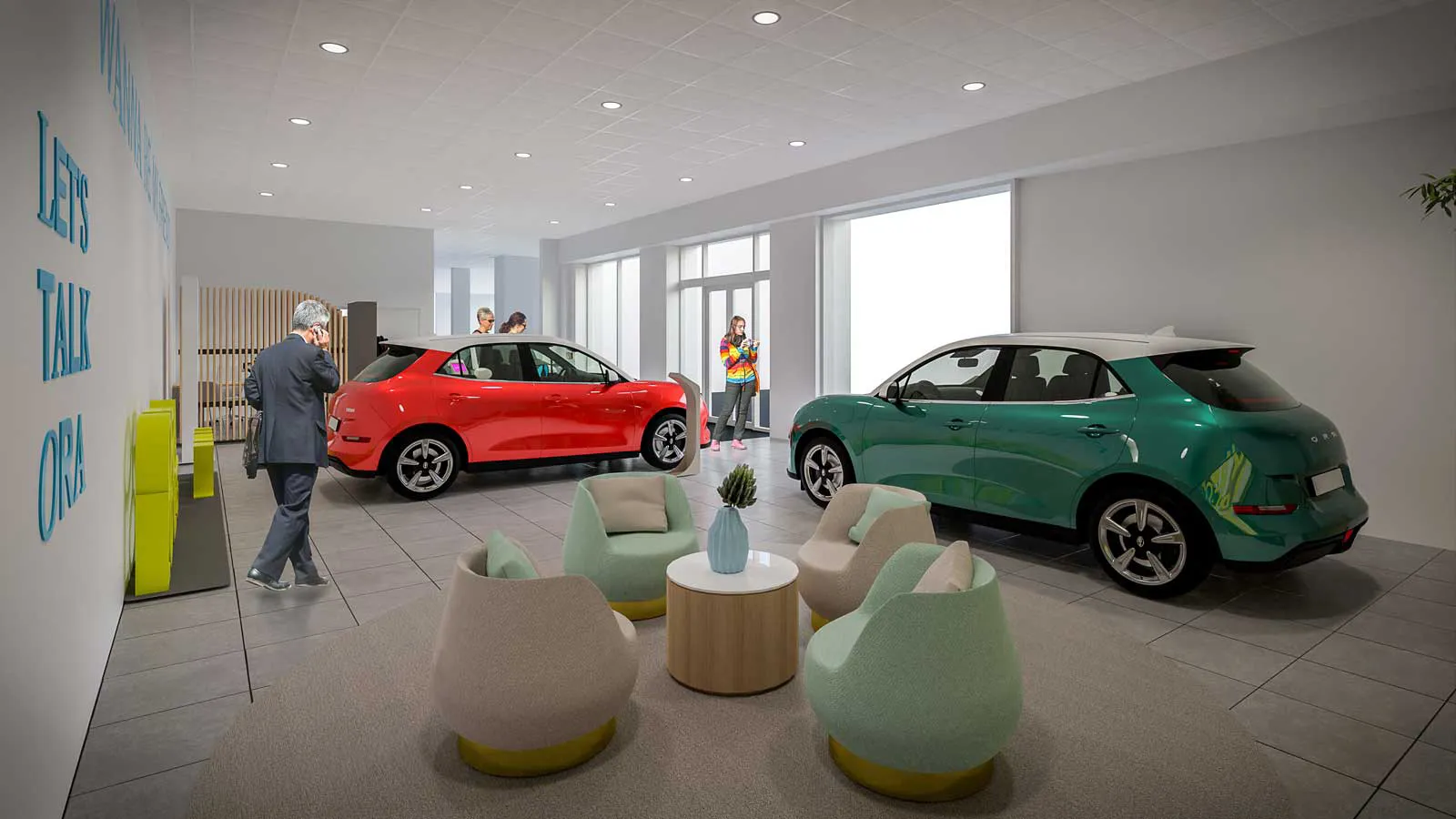 Although the brand emphasises the importance of a robust retail network, GWM ORA UK has adopted an omni-channel approach, with 'ORA Online' also available to customers – enabling services like online reservation and home delivery for added convenience.
As we scale the GWM ORA brand in the UK, it is vital that we have the right infrastructure in place to give customers a quality brand experience. We are delighted to partner with Chorley Group, Charles Hurst Group and City West Country who will be a fantastic addition to our network of retailers, providing a premium service to customers.

Toby Marshall, Managing Director, GWM ORA UK
The first of the three retailers to go live and open its showroom will be Charles Hurst in Belfast, from the 6th March 2023. Established in 1911, Charles Hurst Belfast now represents 23 brands including Land Rover, Toyota, Renault, Kia and Lexus, Bentley, Aston Martin and Lotus with pure electric brand GWM ORA as the latest edition to the portfolio. Charles Hurst is the largest Dealer Group in Northern Ireland, operating across 8 sites in Northern Ireland and 2 sites in the Republic of Ireland. Charles Hurst, part of motoring giant Lookers PLC, is renowned for its 40-acre dealership complex on Boucher Road Belfast, where the new GWM ORA dealership will be located.
It is a great privilege to be the first GWM ORA retailer in Northern Ireland. This is an exciting time for the EV market, and we're looking forward to helping even more of our customers make the all-important step towards electric driving. The ORA Funky Cat is a great way to start that journey.

Jeff McCartney, Group Operations Director at Charles Hurst Group
Chorley Group (with their site in Chorley) will go live from the 13th of March 2023 and City West Country (with their site in Exeter) will open it's doors officially on the 24th March.
Chorley Group has been located in Chorley for 33 years and over this time has worked with a number of automotive brands, including: Nissan, Hyundai, Kia, Citroen, MG, Isuzu and Vauxhall.
City West Country have been located in Exeter for over 20 years as a retailer for various premium brands. As experts in retailing high-end products, City West Country are ideal retail partners for the GWM ORA brand.
After seeing ORA Funky Cat, we knew that the GWM ORA brand would be great for our retail site. There is clear demand for premium electric vehicles at an accessible price point and GWM ORA ticks that box.

Luke Yetman, Franchise Director, City West Country
As a very highly specified launch vehicle, ORA Funky Cat First Edition comes equipped with features like: Adaptive & lane Centring Cruise Control, 360 Degree Cameras, Voice Assistant, LED Headlights, 18" Alloy Wheels, Wireless Phone Charging and Electric Front Seats. ORA Funky Cat First Edition is competitively priced, starting at £31,995, currently available with a 48kWh battery offering a WLTP range of up to 193 miles.
To offer complete peace of mind, the vehicle will be backed by a very comprehensive five-year vehicle, unlimited mileage warranty with cover on the battery for eight-years or 100,000 miles. Service intervals are in-line with best-in-class competitors, scheduled every 2 years or 18,000 miles, whichever comes first.
GWM ORA also recently announced that ORA Funky Cat has achieved best-in-class results in the 'Small Family Car' category as part of Euro NCAP safety tests.