GWM ORA UK appoints Lookers Group as the first official Retailer for new electric car ORA Funky Cat in England
Lookers Group in Wolverhampton and Braintree have been appointed by GWM ORA UK as official Retailers for new EV car ORA Funky Cat
GMW ORA UK continues to strengthen its Retailer network ahead of launch
ORA Funky Cat First Edition is the first product to launch in the UK, starting at £31,995
UK order books will open in November with customer deliveries taking place later this year
GWM ORA UK has appointed two major Lookers Group sites as official retailers for GWM ORA products, adding showroom locations in Wolverhampton and Braintree. These latest appointments further strengthen GWM ORA's Retailer network ahead of official order books opening later this year.
With a focus on quality, reliability and unique design, GWM ORA will offer an accessibly priced premium EV experience to customers.
"As a new brand launching into the UK market, it is essential that we partner with the right businesses. Lookers Group has a reputation for expert knowledge within the industry and I am confident they are best placed to help us deliver a premium EV ownership experience to UK customers."

Toby Marshall, Sales and Marketing Director, GWM ORA UK
Leading automotive retailer Lookers Group represents 33 leading car manufacturers in more than 150 dealerships across the UK and Ireland, and online, supplying more than 200,000 vehicles each year. A team of around 6,500 staff work within the group.
GWM ORA is the latest brand to be added to the Lookers product portfolio, with the first sites in Wolverhampton and Braintree set to kickstart sales of the ORA Funky Cat for the group later this year.
As the UK's leading future-focused motor retail group, with a proud heritage stretching back over 100 years, Lookers is committed to being UK consumers' number one choice for all-electric driving. Proud to be welcoming the new ORA Funky Cat First Edition to not one, but two, prominent Lookers sites in our nationwide network, this transformative car brings a fresh new look to the EV market and we are thrilled be among the first in the UK to showcase its arrival.

Mark Raban, Chief Executive Officer at Lookers
A real gamechanger for the UK's EV marketplace, the ORA Funky Cat comes with an exceptional range, outstanding driver-focused features and a price point which many buyers will see as attractive. We're excited to have such a strong new EV offering for our customers, which will be proudly showcased at our Lookers dealerships in Wolverhampton and Braintree. With a strong record of partnership success with established and emerging EV brands, the arrival of the ORA Funky Cat is a welcome and compelling addition to our growing portfolio.

Duncan McPhee, Chief Operating Officer at Lookers
As a very highly specified launch vehicle, the ORA Funky Cat First Edition will start with a price of £31,995 and include features like facial recognition, voice recognition, 360-degree cameras and adaptive cruise control as standard.  
Customers will also benefit from integrated Apple CarPlay and Android Auto, as well as wireless phone charging and electric front seats. In addition, the vehicle features comprehensive charging capability with Type 2 single-phase AC and three-phase AC charging as standard. ORA Funky Cat First Edition will also feature DC rapid charging and come equipped with a CCS socket as standard.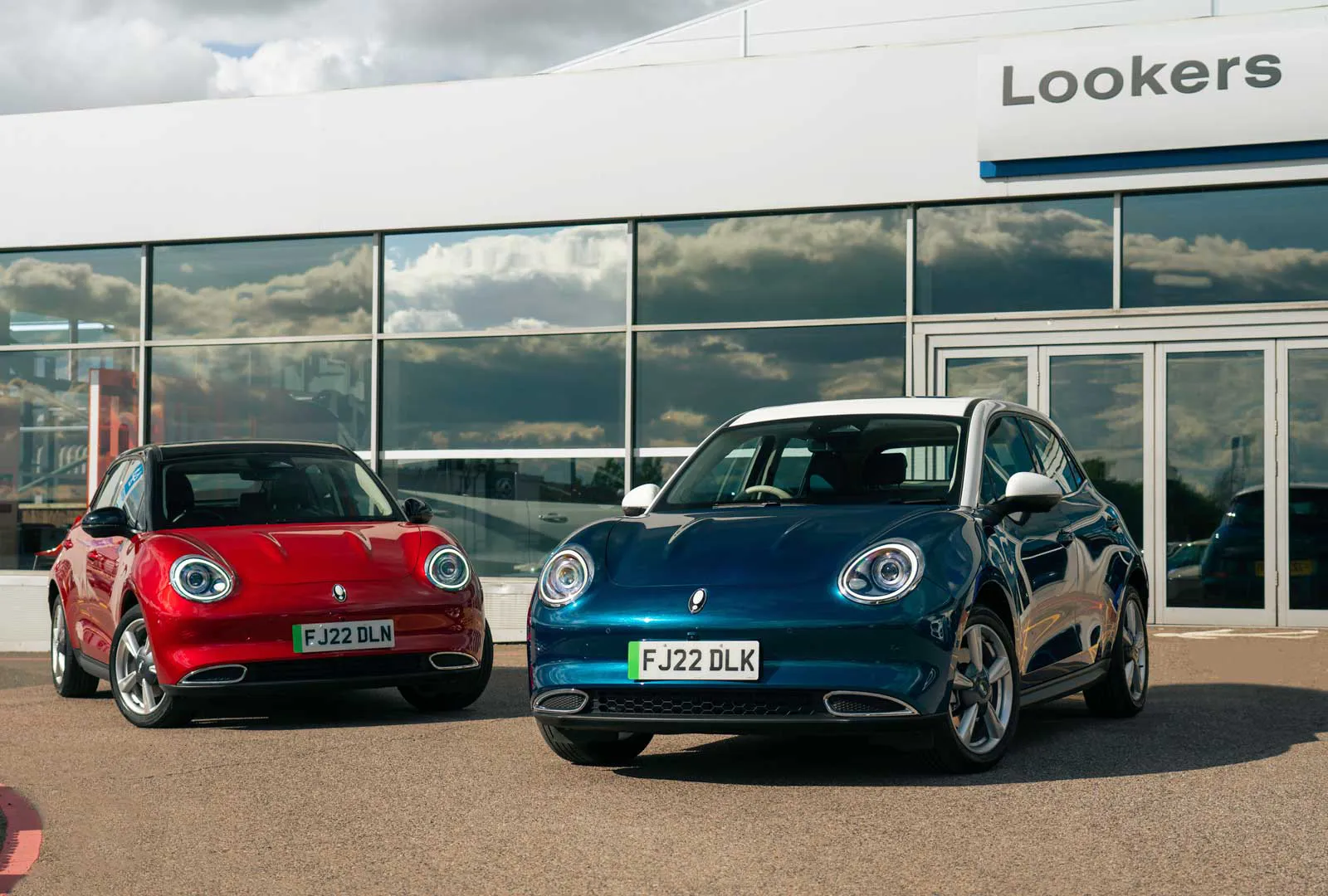 Based on 15% – 80% charge status, home charging will take users around 5 – 6 hours. This time is cut drastically when moving up to three-phase AC on-street charging, which takes around 3 – 4 hours. Additionally, rapid charging will take users around 40 minutes.
To offer complete peace of mind, the vehicle will be backed by a very comprehensive five-year vehicle, unlimited mileage warranty with cover on the battery for eight years or 100,000 miles. Service intervals are in-line with best-in-class competitors, scheduled every two years or 18,000 miles, whichever comes first.
The ORA Funky Cat First Edition will be available in a choice of four colour variations, informed by the ORA community in a poll earlier this year. As standard, the vehicle will be presented with a Nebula green exterior paint finish and a black interior.  Customers can also opt for a Starry black exterior paint. Additionally, Mars red (red & grey interior) and Aurora green (green & grey interior) variations will be available at launch and feature a black or white contrasting roof.